Talented French Chef, Christophe Moret, joins Shangri-La Hotel, Paris as Executive Chef in January 2015.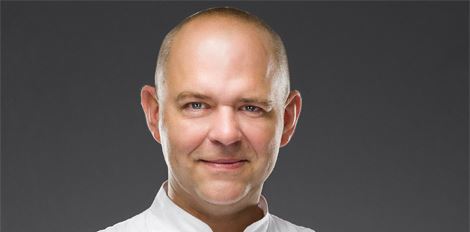 Bringing with him more than twenty years of experience in French gastronomy and his own style, Christophe has previously worked with Chef Bruno Cirino at Saint Jean-de-Luz Grand Hotel and then at Château Eza, before teaming up with Chef Jacques Maximin at the Nice Théâtre in 1989. He also held posts alongside the renowned Chef Alain Ducasse, starting in 1990 at the three-star restaurant, Louis XV in Monaco.
Christophe's open-mindedness and curiosity then led him to the Royal Monceau and 59 Poincaré as Sous-Chef. Later in 1998, he became Head Chef at Spoon, Food & Wine in Paris, where he excelled at blending tastes and flavours from all over the world. In 2003 he became Head Chef at the three-star restaurant, Alain Ducasse au Plaza Athénée. After seven years there, the doors to the famed Lasserre opened for him, where he joined as Head Chef of the two Michelin Star restaurant. Christophe will now join Shangri-La Hotel, Paris, bringing with him a wealth of creativity and a new wave to the hotel's culinary offerings.
"Becoming Executive Chef at Shangri-La Hotel, Paris is a wonderful opportunity for me to join the group and to devote my skills to the service of its Parisian Palace. I am honoured to take up the reins of the three restaurants and to be given the supervision of the hotel's culinary offer. I will pull out all the stops to make Shangri-La Hotel, Paris a shining landmark on the Parisian and international gastronomic scene. I really want our guests to live a unique experience at our restaurants" said Chef Christophe Moret.
Stefan Bollhalder, General Manager of Shangri-La Hotel, Paris commented, "Christophe Moret impressed me with his expansive, authentic cuisine, his great technical skill and his strong culinary personality. It is my firm belief that he will enable us to write a new chapter in history, leading the hotel to the firmament of French gastronomic cuisine."
Hong Kong-based Shangri-La Hotels and Resorts currently owns and/or manages more than 85 hotels under the Shangri-La brand with a room inventory of over 36,000. Shangri-La hotels are five-star deluxe properties featuring extensive luxury facilities and services. Shangri-La hotels are located in Australia, Canada, mainland China, Fiji, France, Hong Kong, India, Indonesia, Japan, Malaysia, Maldives, Mauritius, Myanmar, Philippines, Singapore, Sultanate of Oman, Taiwan, Thailand, Turkey, the United Arab Emirates and the United Kingdom. The group has a substantial development pipeline with upcoming projects in mainland China, India, Mongolia, Myanmar, Philippines, Qatar, Sri Lanka and the United Arab Emirates. For more information and reservations, please contact a travel professional or access the website at www.shangri-la.com.