Shangri-La Hotel, Singapore's Water Warriors answer the call of distress brought about by global water scarcity.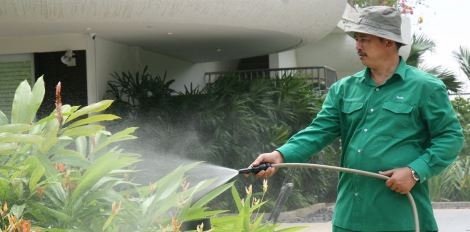 Tasked with the mission to educate guests and colleagues on water conservation initiatives, they will unveil the results of their efforts during the Earth Hour cocktail reception for invited guests on 29 March 2014 at 8.30 p.m. in the hotel's Lobby Court.
Guests staying at the hotel on 29 March 2014 can participate in the hotel's water conservation project by not changing bedroom and bathroom linen on that day. Members of the public can pledge to save water on the hotel's Facebook page in a virtual bid to save 9,000 litres of water by achieving 1,000 "likes" through a customised application.
The Water Warriors from various departments have pledged to save water through the following initiatives:
50 per cent reduction of ice usage at The Line's seafood counter through the use of a new ice bar design
Installing a water restrictor on wash basins and kitchen taps
Using thimbles to reduce water usage when watering plants and flowers in the hotel's 15 acres of gardens
Implementation of water irrigation system to reduce water usage
Changing bedroom and bathroom linen upon guests' request at Tower Wing
Using water- and power-efficient dishwashing equipment in the Stewarding Department that recycles water
Being advocates of water conservation measures and initiatives, at work and at home
Facebook users can make their pledge to conserve water on Shangri-La Hotel, Singapore's Facebook page from 20 to 29 March 2014. Visitwww.facebook.com/shangriLaSingapore and help to fill up the water bottle with 1,000 pledges. Each click is equivalent to nine virtual litres of water.