To reaffirm the group's commitment to corporate social responsibility, Shangri-La Hotel, Tianjin's colleagues rode seven kilometres on bicycles from the hotel on Haihe East Road to one of Tianjin's busiest shopping mall, Joy City, in Heping District to promote the need for clean air and a pollution-free city.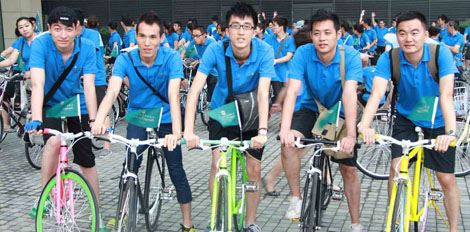 A hundred colleagues, including the hotel's executive committee members, wearing the pre-opening blue polo tee-shirt, set off from the hotel at 6 p.m.  The sea of blue on bicycles was a head-turner during the Friday evening peak hour.  The journey was completed in less than two hours.  Fridge magnets in the shape of the hotel were also distributed to passers-by along the way.  The journey was concluded with a three-minute dance at the entrance of Joy City.
Opening in August 2014, the hotel is located within Tianjin Kerry Centre and is connected to a shopping mall with dining and entertainment options, including a 1,700-square-metre Kids Adventure Zone and an ice-skating rink (opening in January 2015).  It is a 30-minute drive from Tianjin Binhai International Airport, 10 minutes from Tianjin Railway Station and five minutes from the city's Central Business District, which lies just over Baoding Bridge.
For reservations or more information, please call (22) 8418 8666, email reservations.sltj@shangri-la.com  or visit  www.shangri-la.com/tianjin .