Consistently committed to sustainable and eco-friendly practices, Shangri-La's Mactan Resort and Spa, Cebu proudly tones down its carbon footprint with the launch of its Water Bottling Plant.
Employing the Classic Crystal Tropical Bottling System of EcoPure Waters, the deluxe resort now filters, purifies and bottles drinking water on-site.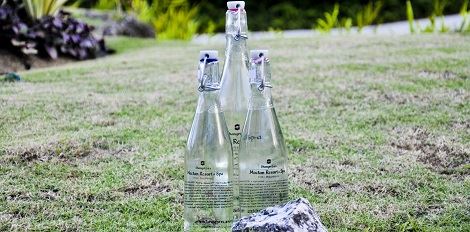 The advanced facility is equipped with a bottle filling station, filter monitor, bottle sterilizer, water cooler, bottle washing tray, and a loading and unloading bay.
Working with the resort's desalination plant, the purification system passes seawater through several meticulous stages of filtration, including UV Light Disinfection, to produce sparkling and pure still drinking water. Periodic microbiological testing is also performed by an accredited independent contractor to further ensure each drop of water is guaranteed clean and safe for consumption.
A global initiative that promotes recyclable glass bottles, this 'green' project is expected to save 250,000 plastic bottles disposed yearly, and substantially reduce the resort's environmental impact.
"This is an exciting opportunity for us as we continue to set a standard of excellence in hospitality, and strengthen our commitment to the environment and community," says General Manager Marco Vazzoler
The resort's new water system solidifies Shangri-La's promise of safety and security in paradise for future generations of guests and employees.
Initially offered in the Ocean Club rooms and suites, the bottled water will soon become a permanent amenity in all guestrooms and banquet functions.
For inquiries on this new water system, guests may contact Shangri-La's Mactan Resort & Spa, Cebu at (63 32) 231 0288 or email mac@shangri-la.com.
Hong Kong-based Shangri-La Hotels and Resorts currently owns and/or manages more than 80 hotels under the Shangri-La brand with a room inventory of over 34,000. Shangri-La hotels are five-star deluxe properties featuring extensive luxury facilities and services. Shangri-La hotels are located in Australia, Canada, mainland China, Fiji, France, Hong Kong, India, Indonesia, Japan, Malaysia, Maldives, Philippines, Singapore, Sultanate of Oman, Taiwan, Thailand, Turkey and the United Arab Emirates. The group has a substantial development pipeline with upcoming projects in mainland China, India, Mongolia, Myanmar, Philippines, Qatar, Sri Lanka and United Kingdom. For more information and reservations, please contact a travel professional or access the website at 
www.shangri-la.com
.