A multitude of culinary treats awaits celebrants at Shangri-La's Rasa Sentosa Resort & Spa, Singapore this Easter.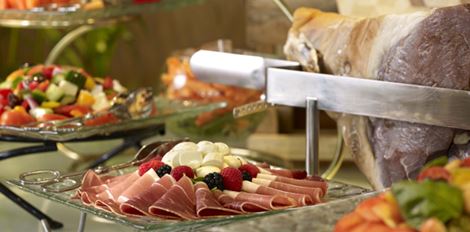 On 18 April 2014, the Chefs' Cookout buffet spread at Silver Shell Cafe encompasses a variety of freshly prepared dishes from the naan tandoor to the seafood corner, noodle station, roast, grill and barbecue stations. Nearby is a dedicated children's corner brimming with kids' favourites, including pasta, meat, poultry and fish dishes, salads and desserts. The buffet is available from 6 to 10 p.m. at $78++ per adult and $18++ per child.
At the Seafood Night on 19 April 2014, bountiful fresh marine harvests from around the world will fete seafood lovers. Boston lobsters, New Zealand green-lipped mussels, Alaskan king crab legs and Fine de Claire oysters from France will make their rounds in the cold section, whilst Singapore's perennial favourite – the Chilli Crab – will tempt
diners from one of the six live theatre kitchens. Dinner will be available at Silver Shell Cafe from 6 to 10 p.m. at $78++ per adult and $18++ per child.
On Easter, the resort will transform into an exciting playground for families – all decked with chocolate eggs and bunnies of various colours and sizes. A sumptuous Easter Garden Party will be available by the waterfront at Atmosphere by the sea on 20 April. A buffet spread will brim with freshly shucked French oysters,lobsters, king crabs and giant prawns. Nearby, a live station will dish out succulent grills and roasts. An assorted French cheese platter with desserts and Easter specials will await diners to complete the feast, whilst magic shows and children's activities
will enliven the special occasion.
Diners can enjoy complimentary access to the resort's swimming pools, children's slides and splash pad after the meal. The buffet lunch will be available from noon to 3 p.m. at $158++ per adult. A child under 12 year old dines free when accompanied by a paying adult; $38++ is chargeable for each additional child.
At the Silver Shell Cafe, an Easter buffet dinner will be in full swing. Culinary highlights will include Roast Leg of Lamb, Prime Ribs, freshly shucked oysters and lobsters with desserts, such as Yorkshire Pudding. The dedicated children's buffet corner will be stocked with every favourite imaginable; from hot dishes to desserts, including chocolate eggs, chocolate bunnies and Easter cupcakes. The buffet dinner will be available from 6 to 10 p.m. at $78 ++ per adult and $18++ per child.
For enquiries and reservations, please call (65) 6371 1966 or emailfbreservation.sen@shangri-la.com.