New York City is a cultural center for so many reasons: theatre, architecture, music, dance, and more.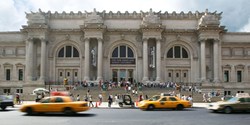 What the Big Apple may be best known for, however, is its collection of some of the best art institutions in the world, including the Metropolitan Museum of Art, a must-see on any New York travel itinerary. Fortunately for Smart Destinations travelers to New York this summer, the Met has recently extended its operating schedule to be open all seven days of the week.
The extended Metropolitan Museum of Art hours will give visitors more time to explore the vast collections of this New York treasure. The Met is home to over 2 million artifacts and art works. From the riches and wonder of Ancient Egypt to special collections of modern art, this cultural institution represents nearly the entire spectrum of human creativity. The Metropolitan Museum of Art is available on both the New York Explorer Pass and Go Select New York Pass, making it an easy and affordable part of any NYC vacation.
"The Metropolitan Museum of Art is one of our most popular attractions," said Lisa Cronin, Director of New York Operations with Smart Destinations. "These additional hours will ensure that all of our customers will have the chance to visit this great institution any time they visit New York."
Smart Destinations travelers of all ages will enjoy this most-visited New York attraction. In addition to the extensive selection of permanent exhibits available year-round, the Metropolitan Museum of Art also hosts a number of rotating special exhibits. Current special exhibits at the Met include the high fashion exhibit, "Punk: Chaos to Couture," and a fascinating study of ancient Persian culture in "The Cyrus Cylinder and Ancient Persia: Charting a New Empire."
Smart Destinations customers can even skip the line at this premier attraction, allowing them to avoid wasting precious time idling in lengthy queues. As an additional bonus, the New York Explorer Pass also provides visitors with a special discount on the Met's popular audio tour. Other New York attractions that may be of interest to fans of the Metropolitan Museum of Art include the Museum of Modern Art (the MoMA), the Guggenheim Museum, and the Cloisters, the Met's sister institution.