The Soneva Group is delighted to announce that Soneva Fushi has won the award for best hotel in The Middle East, Africa & The Indian Ocean, as voted by the readers of Condé Nast Traveller magazine. Soneva Fushi was listed third overall in the world's top 100 hotels.
Sonu Shivdasani, Founder and CEO, and his wife Eva, Creative Director, attended the Readers' Travel Awards 2013 ceremony on Monday 2nd September and accepted the award on behalf of the Group.
Sonu Shivdasani commented, "Eva and I are so happy that Soneva Fushi has been awarded best hotel in The Middle East, Africa & The Indian Ocean. It was our first born! The resort opened some 18 years ago in 1995 and it is a great honour that it is still recognised and regarded so highly by the readers of Condé Nast Traveller. We are always enhancing the resort with new features so our repeat guests enjoy a little serendipity each visit. The award is a wonderful present for the Soneva Group's first birthday, since regrouping the company last July."
This year in particular, Soneva Fushi has many new features – some announced, some soon to be. Not least the new 8 bedroom Private Residence in October, the new children's Den (December) which even adults will envy! And Soneva in Aqua, a sumptuous, Soneva floating villa yachting experience, which will be in the Maldives next Spring.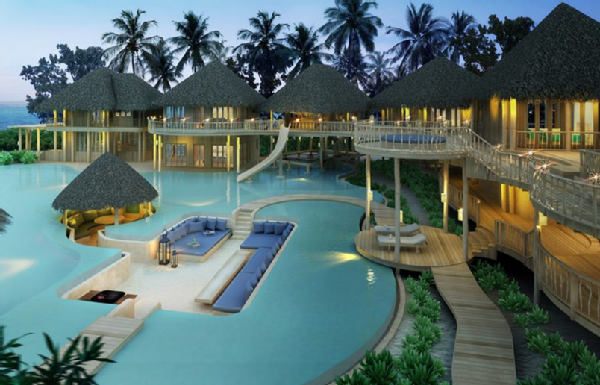 The awards ceremony took place at The British Museum on Great Russell Street, London. Condé Nast Traveller Editor Melinda Stevens and Publisher Simon Leadsford led the proceedings and revealed the winners voted for by their discerning readers. The categories covered a wide-range of areas from the readers' favourite country, favourite UK hotel, airport, spa and tour operator.
Soneva Fushi is the flagship resort of The Soneva Group and the original desert island hideaway.