Sydney police placed busy Pitt Street in lockdown yesterday after a visitor to Centrepoint Tower in the heart of the city's central business district apparently unclipped their safety harness on the tower's Skywalk Tour and fell or leapt 260 metres to their death, in front of horrified onlookers.
Emergency services rushed to the iconic tower about 2.45pm and police later confirmed a person had died at the scene. They were not treating the death as suspicious.
Several witnesses were suffering from shock, an ambulance spokesman said.
Witnesses were reported saying that someone taking part in a Skywalk tour had unclipped their safety harness. Their identity hasn't been made public so it's not known where they were from. The deceased was yesterday said to be a man but at least one report this morning (Daily Mail Australia) said the deceased was an "agitated" middle-aged woman.
Police later confirmed it was a woman. Whether she was a tourist is unclear. Police sealed off sections of Pitt Street to pedestrians after the incident.
Centrepoint Tower in Sydney
Sydney Tower Eye, which is run by the Merlin Entertainments Group, closed after the death, with tourists waiting to participate in the tour being asked to leave the building and given refunds. Sydney Tower Eye posted on Twitter: "Following an incident, the attraction has been closed until further notice."
Sydney Tower Eye's website says its Skywalk Tours offer "unrivalled 360 degree views of the most beautiful city on earth. Make the most of your Sydney Tower Eye experience and step out onto Skywalk. At twice the height of the Sydney Harbour Bridge we're the highest point in Sydney!"
NSW Ambulance said two of its crews were called to reports of someone threatening self-harm. Office workers were warned to stay away from windows.
People at street level during the incident. Twitter
Below, the Tower from ground level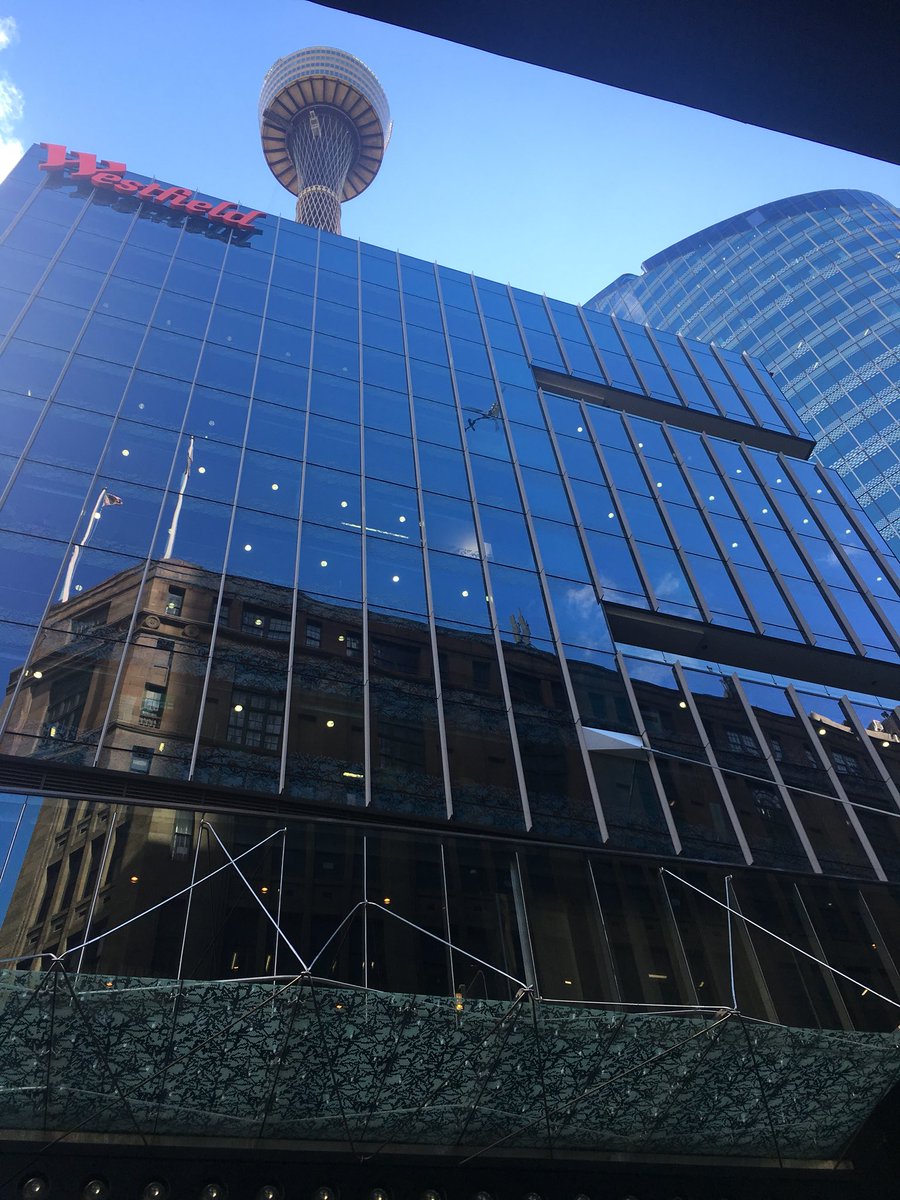 As the crisis developed, bystanders whipped up a Twitter storm.
"V large police presence on corner of Castlereagh and Market Streets, Sydney CBD outside entrance to Westfield/Centrepoint Tower. Police cars and very loud choppers! What's going on?" one Twitter user posted.
Other posts:
"The authorities are taking the body away. Someone definitely fell!"
"Holy smokos! Someone jumped or fell off from the Centrepoint tower and splattered down the pavement."
"Not on the street level but one of the sub-floors (lower floors, office building) at Centrepoint Tower," another added.
While most people are inspired by tall iconic structures – such as the Eiffel Tower, the Empire State building and Sydney Tower – a few, sadly, view them as suitably elevated points of departure.
Police will prepare a report for the coroner. 
Anyone with concerns can contact Lifeline on 13 11 14, Suicide Callback Service 1300 659 467 or Kids Helpline on 1800 551 800.
Written by Peter Needham