The Tourism Authority of Thailand (TAT) is proud to announce that once again, its work and campaigns have received international accolades and won the Grand and Gold prizes at the Pacific Asia Travel Association (PATA) annual Gold Awards 2016.
The "One and Only" campaign, which invited travellers to discover Thainess and share their experiences, won the Grand Awards under the Heritage and Culture category while the Thailand from the Air book received the Gold Awards under the Travel Journalism – Travel Guide Book category.
Mr. Yuthasak Supasorn, TAT Governor said, "We are all incredibly pleased at this news about our success in the PATA Awards 2016. This isn't just because it reflects all of the hard work of the TAT team in putting together innovative and sustainable campaigns, but also because it shows the great interest that people from around the world have in learning about the amazing culture of Thailand and the kingdom's breath-taking destinations and attractions. Our campaigns offer a window on what Thailand offers, so we are pleased when they get the attention on an international stage."
The "One and Only Project in Discover Thainess Campaign" campaign was initiated to help people learn about and experience the Thai culture and lifestyle as well as the kingdom's tourist attractions. Launched on 23 February, 2015, it was aimed at travellers from around the world, especially young people active on social media networks. To join, participants had to choose one of five activities under the "Discover Thainess" theme: Muay Thai, traditional Thai dancing, Thai cooking, making Thai-style floral garlands, or speaking Thai. They then had to make a film of themselves taking part in these activities and upload it to the campaign's site. The best video was voted on by a panel of judges and finalists who were invited to Thailand to travel and take part in the activities they had explored.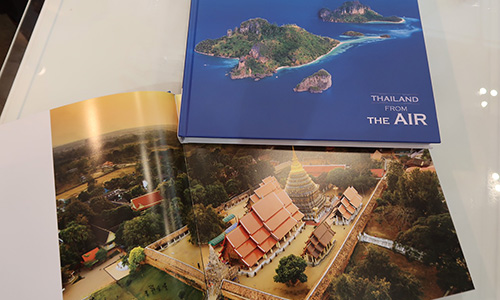 The "Thailand from the Air" book features amazing pictures of Thailand's most famous and beautiful sights from a whole new perspective.
The Pacific Asia Travel Association (PATA) was established to promote the responsible development of the travel and tourism industry in the Asia-Pacific region. The annual and much respected PATA Grand and Gold Awards are given to celebrate exceptional achievements in promoting the industry across a range of media.
The 2016 Awards presentation took place at the Indonesia Convention Exhibition (ICE), Greater Jakarta, Banten Province, Indonesia on Friday, 9 September, 2016 during the PATA Travel Mart 2016.