Thailand Convention and Exhibition Bureau (TCEB) and Thai Airways International (THAI) present a new interactive online activity, "Dream Meeting" which unveils Thailand's inspirational meeting locations.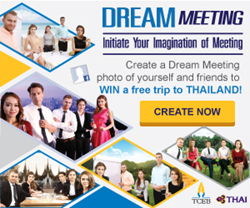 The activity is a share-to-win application on Business Events Thailand website where participants must upload photos of themselves and their friends onto TCEB's choice of backgrounds then share it on Facebook to win our fantastic prize. This marketing campaign is to promote Thailand's unique cultures and stunning meeting, incentive and convention destinations, as well as our creative and inspiring meeting themes – all are unmatched by others. The new activity will be held from August –September 2014.
"Dream Meeting" is a fun photo editing application where participants can create their special meeting by uploading photos of themselves and their friends – five persons in total – onto the meeting venues chosen to capture their imagination. To win, participants have to share the photo on Facebook and earn the most like and shares. The winner, along with friends in the picture will win a dream-come-true trip to Thailand with tickets from THAI Airways, plus complete full-board accommodations and a package tour for 3 days and 2 nights at Doi Tung Development Project, Mae Fah Luang Foundation in Chiang Rai; Destination which boasts beautiful scenery, culture and lifestyle of the local people, waiting for everyone to discover and experience.
TCEB and Thai Airways aim to increase awareness of Thailand as one of the world's premier business events destination, a place packed with remarkable and memorable experiences. To create your dream meeting and for more information, please visit http://www.businesseventsthailand.com/dreammeeting