WindhorseTour, a top local travel agency with offices in Lhasa, has updated their tours to Mount Kailash with new prices, starting at $1,039 USD.
With over 10 years experience of providing tours throughout Tibet, WindhorseTour is the expert of customizing itineraries for their clients, so the prices will vary based on clients' interests and requirements.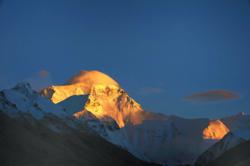 "In order to enjoy a remarkable vocation to the holy Mount Kailash, I suggest clients spend at least 12 days in the tour." Tashi, a Travel Adviser in the Lhasa offices of WindhorseTour said. One of the most popular itineraries is the 12-day Mount Kailash and Lake Manasavora tour, with the price ranging from $1,200 to $1,985 USD in a small group (2 to 4 people).
En route over this trip, Holy Mount Kailash will uncover her mysterious veil to travelers at the 6th day in their trips. Regarded as the center of the world, It has been worshipped by the pilgrims of 4 different religions, including Bön, Buddhism, Hinduism and Jainism. Nobody has ever reached its summit because of this religious reason.
A 3-day kora is arranged after arriving at Dachen. Travelers will hike along the age-old pilgrims' path around the holy mountain. The alluring factors of this trek include close-ups of the majestic pyramidal Mount Kailash, and chances to meet pilgrims from across Tibet and other countries. The highest point of this route is Drolma-la, located at an altitude of 5,630 m. (18,471 ft.), making this trek as a true test of the mind and spirit.
In the first part of this tour, travelers start their trip by driving across Nepal-Tibet borders from Kathmandu, the capital of Nepal. They will stop at the Lake Manasarova, one of the three holy lakes in Tibet while driving across the great Jangtang Plain into the dry lands far western Tibet.
Compared with Namtso Lake and other highlight scenic spots in Tibet, Mount Kailash is the least visited destination in Tibet. However, WindhorseTour still hope more travelers can participate in the spiritual journey to this holy mountain. "Arranging a Mount Kailash tour is the most pleasure thing we could do. With several choices to choose from, these Mount Kailash tours can be easily designed to meet individual interest and travel style." Helen, the sales manager at WindhorseTour said.
WindhorseTour specializes in creating tailor made experiences based on every client's unique needs and operating groups to all provinces in China. Please visit WindhorseTour.com for more information or contact them.