Everything about a stay at The Pavilions, Phuket suggests romance, luxury and beauty.
Nestled on the coast of the Thailand's largest island, The Pavilions, Phuket overlooks the beautiful Andaman Sea, offering the perfect backdrop for honeymooning couples beginning their lives together in a paradise like setting.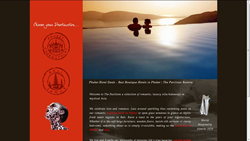 A senior hotel member in a recent interview had this to say, "Phuket gets under your skin and touches your heart. Suddenly, you're smitten. The Andaman pearl's allure is enduring, somehow more than the sum of its parts. Dazzling bays beguile. Yachts bob at anchor in elegant marinas. Lavish villas cling to hillsides. Sweeping beaches cosset azure seas. Lovely Layan is The Pavilions, Phuket nearest beach. Our open air 'songtaew shuttle' service will whisk you there in minutes."
No expense has been spared in order to provide the ultimate in luxury to all guests of The Pavilions, Phuket. Management offers an eye-popping description of what a stay at The Pavilions, Phuket would be like for young lovers and older lovers alike.
"Perched atop one of Phuket's highest points, each lavish pool villa is utterly private, delightfully decadent and unusually spacious. Choose an Ocean View Pavilion; tropical modern temples framing show-stopping seascapes. Within, more wow awaits: supersized sofa, extravagant bathroom, fine art. High-end dock and concealed speakers. Wi-fi throughout the house, on the house. Service shaped around your privacy. Cuisine that embraces organic yet celebrates indulgence, and a balanced view on wellness. Chocolate wraps and champagne breakfasts. Salad days and happy hours, and for something wild, succumb to the allure of new and mysterious Eastland. These are few of the reasons for us getting nominated for the World Travel Awards as Asia's Leading Honeymoon Resort & Thailand's Leading Spa Resort," further added the hotel member.
Having been nominated by the World Luxury Hotel Awards as one of the finest spas in the entire world, The Pavilions, Phuket has a great deal to boast about. Couples who have enjoyed a stay there can't wait for their return trip. Even the hotel is receiving international acclaim as well. No doubt The Pavilions, Phuket is one of the best luxury hotels in the world where the couples can join complete privacy.