The Pearl Hotel, an independent, boutique property in San Diego, California, today released a whimsical new series of short promotional videos featuring its real team members and supporting its core mantra: Hospitality As Warm As The Sun.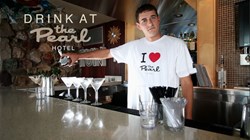 Each video covers distinct areas ─ the hotel, as well as its acclaimed restaurant and bar, EAT at The Pearl ─ and highlights the talent, personalities and level of service each deliver to guests of The Pearl.
Fans of a unique, boutique hotel aesthetic have long admired The Pearl's architecture and mid-century modern design. Equally, foodies and cocktail aficionados delight in the restaurant's local, seasonal offerings and creative mixology. These are among the features that inspired director Sean O' Hara during filming, which focused on the themes EAT, DRINK and STAY at The Pearl. Each promo represents snapshots of the substance and style that have made The Pearl a popular, award-winning, "hidden gem" since 2007. The videos include:
"EAT: Hypnospitality (hypnosis+hospitality), Pt. 1" enters the kitchen of EAT at The Pearl with Executive Chef Jaison Burke, who recently was named San Diego's Most Underrated Chef by readers of Eater San Diego. Later this month, he returns to the San Diego Food and Wine Festival where he won the "Chef of the Fest" popular vote for his dish, Pumpernickel Duck (duck rillette / black Russian bread crisp / Dijon boursin / celery).
"DRINK: Pearl of Hospitality #399" lets viewers take a humorous place at the bar to check out the exuberant creative capabilities of The Pearl mixology team.
"STAY: Pearl of Hospitality #107" visits The Pearl's front desk where warm guest interaction and friendly service are hallmarks of the property.
Watch the video series:
https://vimeo.com/user22372538
All videos were produced by The Pearl Hotel and directed by O'Hara for San Diego-based Forward Motion Creative. Additional promos are slated to premiere in the coming months to coincide with hot happenings at the hotel. They will be posted to The Pearl's website and social media pages. Additionally, the current videos will become part of a trailer shown before The Pearl's popular, year-round, Dive-In Theatre poolside movie events.