With the impending Summer rush, Tower Tours has added the San Francisco Twilight Tour for a limited time only. Visitors can now fill their evenings with a rare and unforgettable experience in the City by the Bay.
The 3-hour tour features highlights such as Cow Hollow, The Fillmore District, Golden Gate Bridge, Palace of Fine Arts, Fisherman's Wharf, North Beach, Treasure Island, and the lights of the Bay Bridge.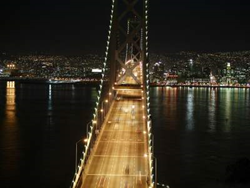 The Bay Lights is the world's largest LED light sculpture, 1.8 miles wide and 500 feet high. Inspired by the Bay Bridge's 75th Anniversary, its 25,000 white LED lights are individually programmed by artist Leo Villareal to create a never repeating, dazzling display across the western span of the Bay Bridge, renamed Willie L. Brown Jr. Bridge in February 2014.
With the Bay Lights Project ending in early 2015, the Twilight Tour gives guests the perfect opportunity to view this record-breaking masterpiece.
This Summer offering also adds the option of the "Supersaver by Night", in which guests can combine the Muir Woods Tour with the Twilight Tour – all in one day.
Tower Tours' Twilight Tour runs from May 15-October 15, is approximately three hours in length and is available on Tuesday, Thursday, Saturday and Sunday at 6:00pm from the Tower Tours main office at 288 Beach Street in San Francisco. Hotel shuttle service is also provided.