Traders Hotel, Shenyang offers a Super Value Set Menu and Dishes at Shang Palace. Chinese Executive Chef Tony Nie makes simple, yet wonderful dishes, creating a healthy and smart meal for all guests.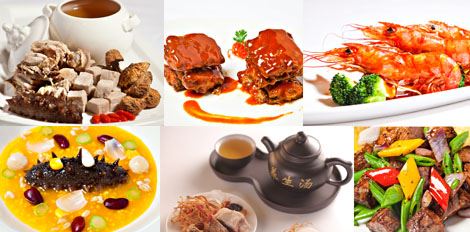 The Shang Palace Super Value set menu is an example of an elegant, but inexpensive dining experience. It is designed for the 'enjoyable gourmand' customer with its mixture of the finest ingredients, the chef's superior cooking skill and Shang Palace's presentation. The set menu includes Two Treasures Appetiser, Pastry stuffed with Fresh Diced Fruit served with White Sesame Seed Pudding, Double-Boiled Superior Soup with Cordyceps Flower, Deep-Fried Shrimps, Braised Sea Cucumber with Buckwheat and many more healthy dishes. The menu is reasonably priced from RMB98 to RMB138 and subject to 15 per cent surcharge.
Shang Palace is also offering a range of local dishes featuring value for money at normal prices, but with an exclusive premium fine dining experience. Prices start at RMB16 per dish.
Shang Palace, the Chinese restaurant at Traders Hotel, Shenyang, is designed with classic furniture and rich details, such as specially selected ornaments and wooden screens in the dining area. The simple, yet elegant decoration keeps the glamour of the old, but also brings in the modern atmosphere of a new era. Opened in 1996, Shang Palace offers Cantonese cuisine, local Liaoning specialities and healthy vegetarian dishes. The creative and innovative restaurant, along with its brand story, customises the finest cuisine and dining experience for guests.
Hong Kong-based Shangri-La Hotels and Resorts currently owns and/or manages more than 80 hotels under the Shangri-La brand, with a room inventory of over 34,000.  Traders hotels cater to today's savvy and passionate traveller with brilliant simplicity and warm sincerity. They provide a friendly yet professional environment designed to complement guests at work, rest or play. Based in major business centres in Asia Pacific and the Middle East, Traders Hotels are the practical choice for business and leisure travelers.
Traders Hotels are located in Abu Dhabi, Beijing, Changzhou, Dubai, Hong Kong, Johor, Kuala Lumpur, Male, Manila, Penang, Shenyang, Singapore, Yangon and Brisbane, with a scheduled opening in Doha, Qatar. The group has a substantial development pipeline with upcoming projects in mainland China, India, Mongolia, Myanmar, Philippines, Qatar, Sri Lanka and United Kingdom. For more information and reservations, please contact a travel professional or access the website at www.tradershotels.com.