Americans may want to think twice about letting their vacation time to go waste this year.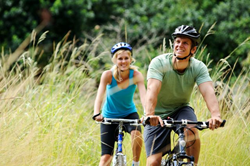 In a recent article, Visit My Smokies, the leading Smoky Mountain vacation guide, revealed the top five ways taking a vacation in the Smoky Mountains can help people live longer.
"The main reason people say they don't take a vacation is because they say they cannot afford to take that much time away from work," said a spokesperson for Visit My Smokies. "The problem with this, however, is by not allowing yourself to unwind and disconnect, you are in turn allowing stress and tension to build up in your body."
In addition to lowering stress levels and increasing positive energy, the Smoky Mountain vacation site also equates a stronger relationship with loved ones and a lower risk of illnesses as important reasons Americans should consider taking a vacation.
The stronger relationships are due to the fact that families are actually taking time to spend time with one another without the distractions of daily life. They are getting out and exploring new things, opposed to staying at home.
The lower risk of illnesses is a result of the combined effort of reducing stress and taking time to let the body's immune system rebuild.
With over half the year left to go, there is still plenty of time to plan a relaxing trip to the Smoky Mountains.
For help in planning a Smoky Mountain vacation, Visit My Smokies provides a variety of useful links and information, including links to lodging and vacation rentals in the Smokies, a list of popular Pigeon Forge andGatlinburg attractions, as well as several coupons for things to do in the Smoky Mountains.
Established in 2009, Visit My Smokies is the premier Great Smoky Mountain destination lodging website. The program is owned by Sevier County, Tenn., and developed to build revenue, through the promotion of travel and tourism, in relation to Gatlinburg, Pigeon Forge and Sevierville area lodging, attractions, dining and shopping. All offices are located at: 125 Court Ave., Suite 102 E, Sevierville, TN 37862.