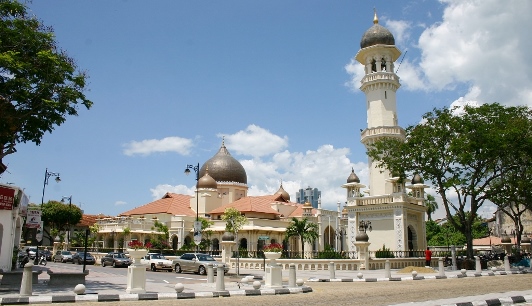 Welcoming Ramadhan 2013.
 This coming 10th of July 2013, Muslims all over the world will welcome the holy month of Ramadhan.
During Ramadhan, Muslims abstain from food and drinks and indulging excessive or ill-natured conduct, from dawn to dusk.  It is one of the 5 pillars of Islam, an obligation for Muslims.
Ramadhan is a month of spiritual reflection, where one learns the value of patience and perseverance. The end of Ramadhan is marked on the 1st of Syawal, where Hari Raya Aidil Fitri is celebrated.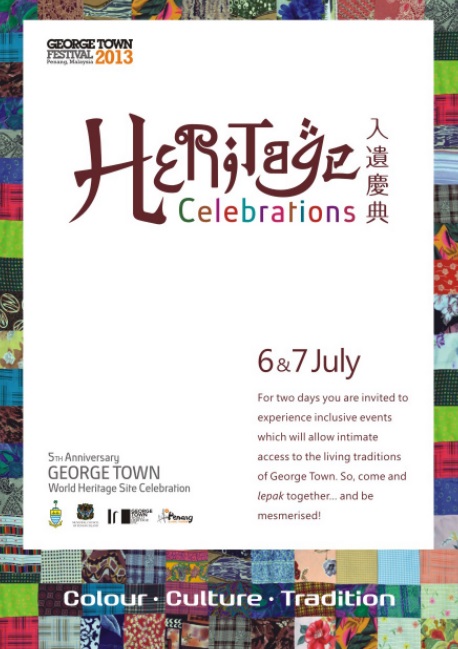 George Town Festival Heritage Celebrations
Date: 6 & 7 July 2012
Time: 12 noon to 12am
Venue: Various Streets in George Town
 Celebrate the 5th year anniversary of George Town, Penang's listing as a UNESCO Heritage Site with two lively days of cultural activities, arts, crafts, food, performances and architectural showcases. The celebrations will be held on various streets and in various places right in the inner city of George Town for the best experience of the living traditions and heritage of the communities.
On July 6, the highlights include a Traditional Arts and Craft bazaar, traditional food bazaar, Boria performance, Wayang Gedek performance, Teochew Rod Puppet Show and a showcase of Peranakan Hokkien Rhymes at various times.
On 5 & 6 July, sign up for a 'walk and talk' tour through CHERITA Lebuh Chulia, a special journey reliving the memories of long-time residents of Chulia Street. On 6 July, join in the special tour to learn about traditional trades of George Town in The Splendid Trades of Yesteryear. Pre-registration is required for both tours with a small fee.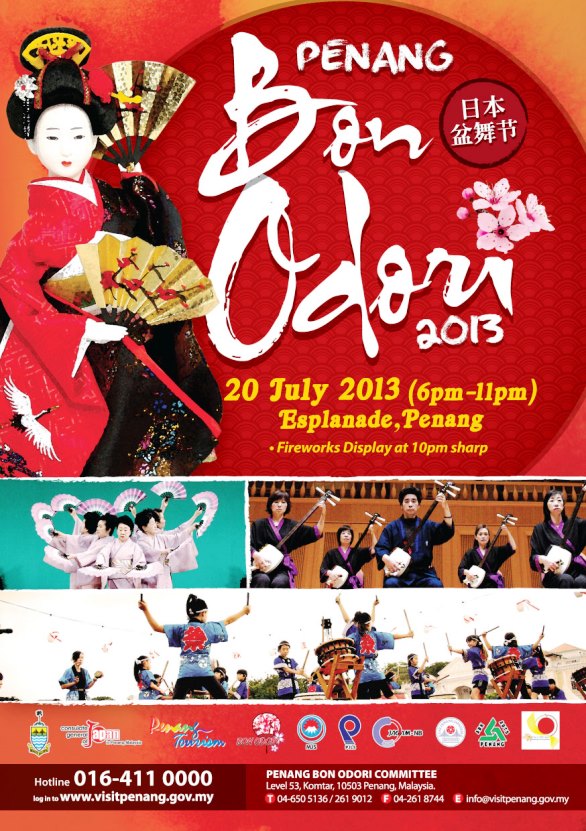 Penang Bon Odori Festival 2013 Video Competition
Date: 20th July 2013
Venue: Esplande
Time: 6.00pm – 11.00pm
 In conjunction with the Penang Bon Odori Festival , Penang Tourism will be organizing a Short Video Competition. The competition is open to Malaysians and non-Malaysians above 13 years old.
 Contestants must record a short video under 10 minutes (using any device including video camera, iPad, Mobile phones) during the Penang Bon Odori Festival happening on the 20th of July 2013. The video must capture the activities, food, dance and spirit of the Penang Bon Odori Festival.
Each contestant is limited to 2 entries only.
All entries must be submitted in an MP4 format in a DVD or Pendrive before the 2nd of August 2013 (Friday) to Level 53 Komtar.
The winner of the competition will receive attractive cash prizes and a certificate from the Penang Bon Odori Festival Committee. Winner of the 1st prize will receive RM800, followed by RM 500 and RM 300 for 3rd and 2nd prize.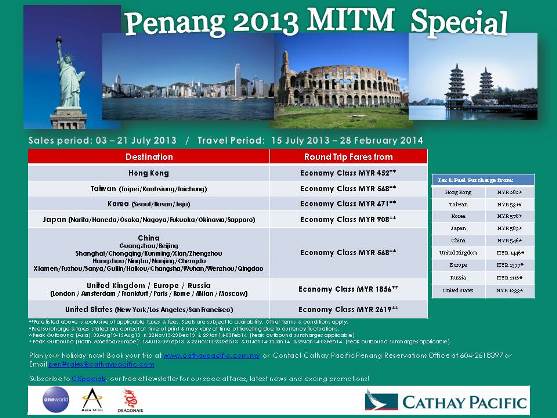 Cathay Pacific's latest promotion: 'Splendid Penang MITM Special' & 'Splendid Penang Business Class Two-To-Go'
 Cathay Pacific Airways is currently offering two promotional packages in conjunction with the Malaysia International Travel Mart (MITM) Penang 2013. The sales period for these packages started from 3 July and will last till 21 July 2013.
The 'Splendid Penang MITM Special' promotion features round-trip economy fares to destinations such as Hong Kong starting from RM452++; Taiwan starting from RM568++; Korea starting from RM671++; Japan starting from RM908++; China starting from RM568++; United Kingdom, Europe and Russia starting from RM1,856++; and United States starting from RM2,619++. The travel period for this promotion is from 15 July 2013 till 28 February 2014.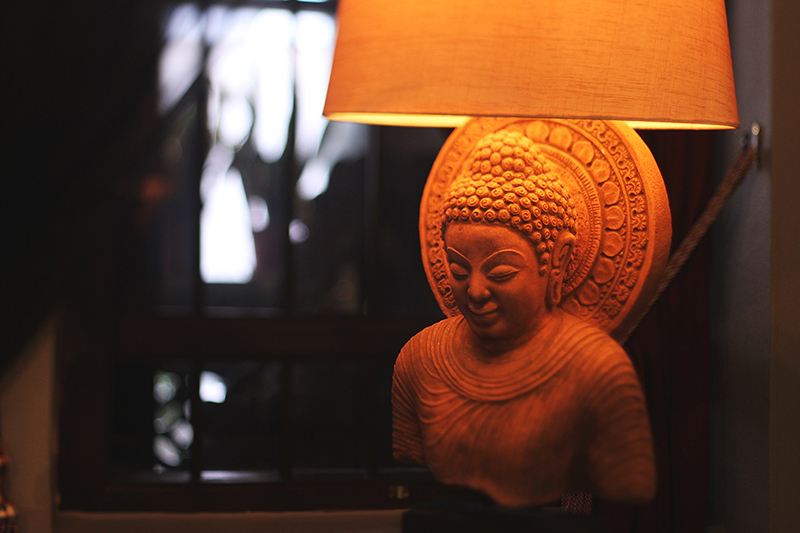 29 Ceylon Lane, George Town, Penang – Your Home for the Night
By CK Lam
Travellers tend to want to seek unforgettable experience, be it discovering a new place to stay or even dining. A place to stay with personality and charm is 29 Ceylon Lane.
Ceylon Lane (四十間 Sì-tsap-keng) is located midway between Hutton Lane and Argyll Road, in George Town, Penang, an UNESCO World Cultural Heritage Site.