Bridges and Kaki Lima
Date: 29th June 2013
Time: 6.00 pm & 9.00 pm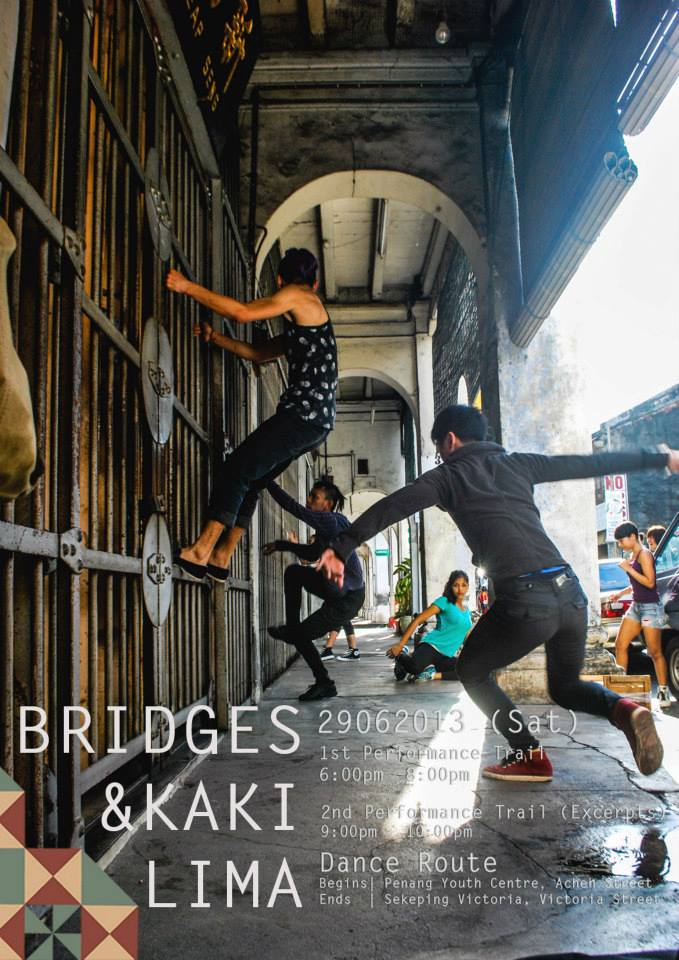 Venue: Dance route begins at Penang Youth Centre, Acheh Street
This contemporary dance journey revitalizes the tradition of street performances in the city, mapping the energy, behaviour and playfulness of George Town. This choreography is devised to celebrate cultural commonalities and to draw bridges across differences between our neighbouring countries, Malaysia, Indonesia and Singapore.
Streets and five-foot ways ('kaki lima') will be used as performance stages in this delightful journey of dance, play and memory. Kaki Lima is presented by Ombak-Ombak ARTStudio and PEARL (Penang Arts Link), choreographed by Aida Redza (Malaysia) and Jefri Andi Usman (Indonesia) and features luminary dancers from NAFA Nanyang Academy of Fine Arts Singapore and Ombak dancers Penang.
Cherita Lebuh Chulia
Date: 29th June – 7th July 2013
Time: 10am – 6pm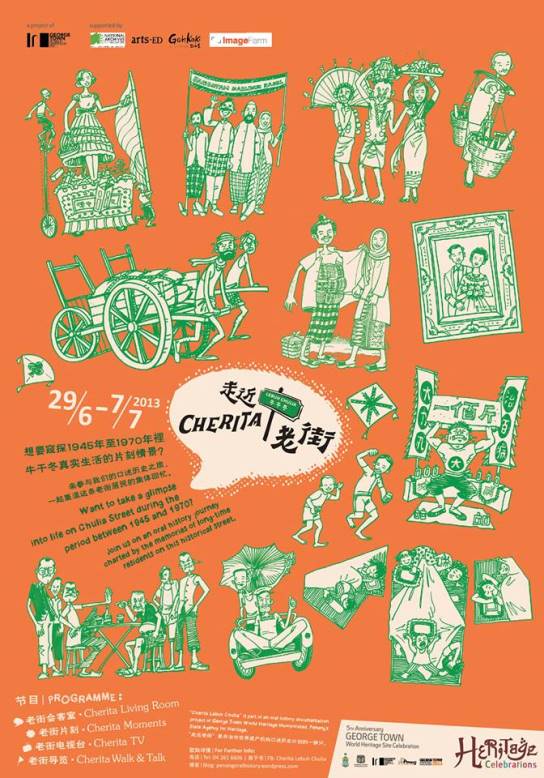 Venue: Various locations along Chulia Street
"Cherita Lebuh Chulia" is an oral history journey that traces the collective memories of living on Chulia Street during the period of 1945-1970. Purchase a copy of the special edition comic book "Cherita Lebuh Chulia" which consist of 10 fascinating stories, and a self-guided map to discover the various fun on-site installations and exhibition along the street.
For a more intimate experience, sign up for the 2-hour 'Walk and Talk' along Chulia Street for a chance to visit some local long-time residents and hear their stories first hand.
On-site Installation and Exhibition
Date: 29 June – 7 July 2013
Time: 10am – 6pm
Venue: Various locations along Chulia Street
Admission: FREE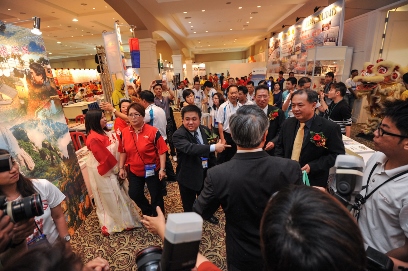 Malaysia International Travel Mart (MITM) Penang 2013
Date: 6 & 7 July 2013
Venue: Straits Quay Convention Centre (SQCC)
The Malaysia International Travel Mart (MITM) Penang 2013 for the second year running is scheduled to be held at the Straits Quay Convention Centre (SQCC) on the first weekend of July.
Organizer, the Malaysian Chinese Tourism Association (MCTA) Penang Chapter takes great pleasure to announce that after the highly successful inaugural MITM Penang last year, this 2nd MITM Penang 2013 has received overwhelming response from the exhibitors.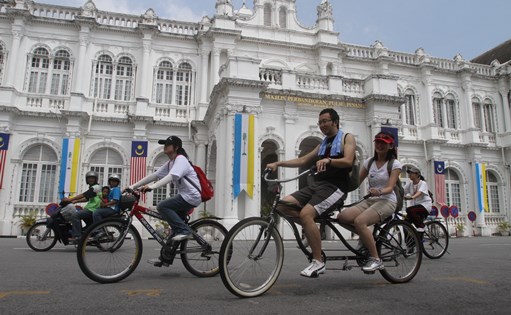 GeorgeTown Bicycle Rental provides visitors with easy access to explore George Town by bicycle.
As a small but compact town filled with rich heritage, culture and lots of activities, exploring George Town by bicycle may seem like the most suitable way to fully experience this little gem in the heart of Penang. There are few bicycle rental centres in Penang and one of it is the George Town Bicycle Rental (GTBR). GTBR is a professional bicycle rental centre that provides all sorts of bikes including mountain bikes, classical bikes, family bikes as well as tandem bicycles. Each bike rental is inclusive of a map, bicycle helmet and a light set.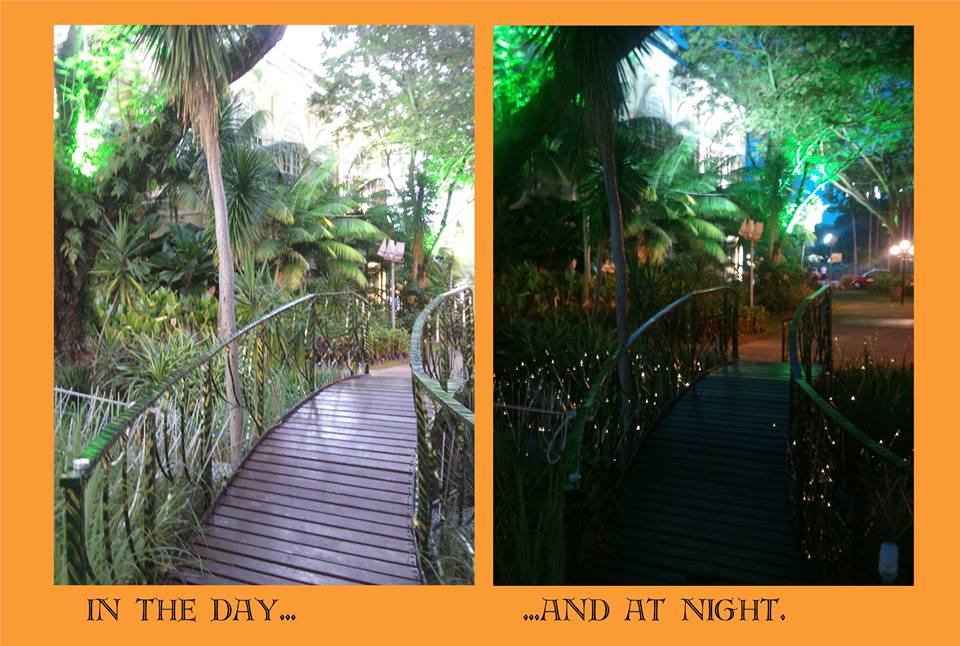 Secret Gardens of Earthly Delights
Date: 7th June – 7th  July 2013
Time: All hours
Venue:Various venues
Ten sites, ten artists, ten gardens: this unique GTF2013 project is a secret waiting to be discovered! Working closely with gardeners, landscape and installation artists, and with the support of the city council and Think City's cultural mapping grant, this astounding and mind-bending site-specific projects is GTF's second venture into public installations that capture the spirit and living heritage known to Penang and George Town.