Richard Clayderman Live in Malaysia
Date: 5 November 2013
Time: 8.30pm
Venue: Straits Quay Convention Centre, Penang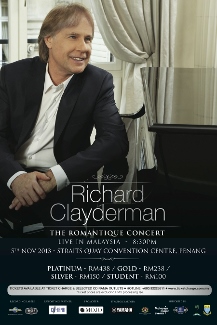 Known all around the world as the Prince of Romance (dubbed by Nancy Reagan), Richard Clayderman will once again charm us with his magical fingers through his distinctive re-interpretations of classical and popular tunes from his newest album, perfectly titled 'Romantique'.
The 60 year old blond-hair blue-eyed superstar does not only swoon, but has a reputation to reduce his audiences to tears with the way he flawlessly glides his fingers through the keys of his instrument, the piano.
Born as Philippe Pagès, Clayderman is "the most successful pianist in the world" according to The Guinness Book of World Records…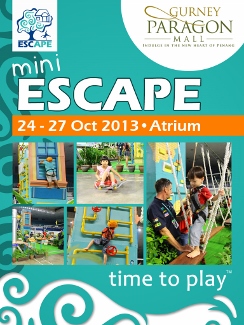 What's Happening at Gurney Paragon Mall
Following the successful campaign at the Penang Green Expo last month, the Mini ESCAPE will be setting up at Gurney Paragon Mall Atrium from 24 to 27 October. The Mini ESCAPE, for Junior Kids aged 4 to 12 only, is a mini version of ESCAPE Theme Park's various attractions such as a 6-metre tall Gecko Tower, a Zoom Bug arena and a mini Monkey Business featuring an off-ground obstacle course and zipline.
There will also be a Penang International Coastal Cleanup on 27 Octoberfrom 6.00am till 11.00am along the coast of Gurney Drive, Penang. To contribute your efforts, pre-register at Pusat Khidmat KADUN Pulau Tikus, 34 Jalan Jones, Pulau Tikus, Penang.The meeting point on that day is at Gurney Paragon Mall's Festive Square on Gurney Drive. For enquiries…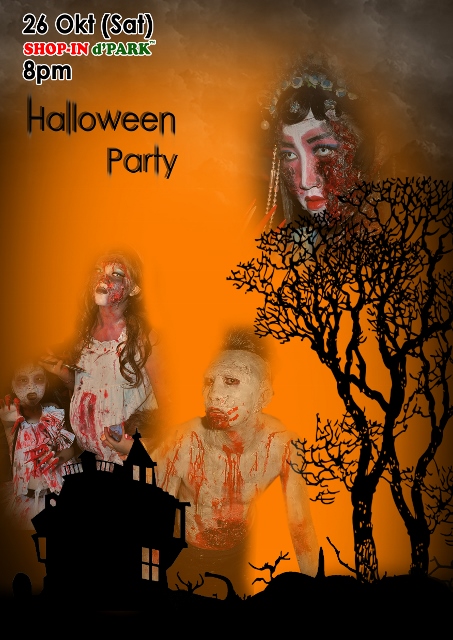 Halloween Celebrations
Auto-City invites all to join in their scary Halloween Party on 26 October2013 at 8pm, in Auto-City SHOP-IN d'PARK. Be spooked by roaming ghosts, vampires, zombies and monsters in this chilling and hair-raising annual event. If you would like to be part of the scare or be a little more creative, join their scary make-up and make-over contest and stand a chance to win the best-dressed title. For more information on the Auto-City Halloween Party, call 04-5011222 or 012-4830456.
For something a little different, celebrate Halloween with Gurney Paragon Mall by joining their "Are you Scary or Scared" Photo Contest which runs from 12 to 27 October. Snap two photos; one with a Menacing expression and the other with a Horrified expression at the photo booth and stand a chance to win some Halloween treats.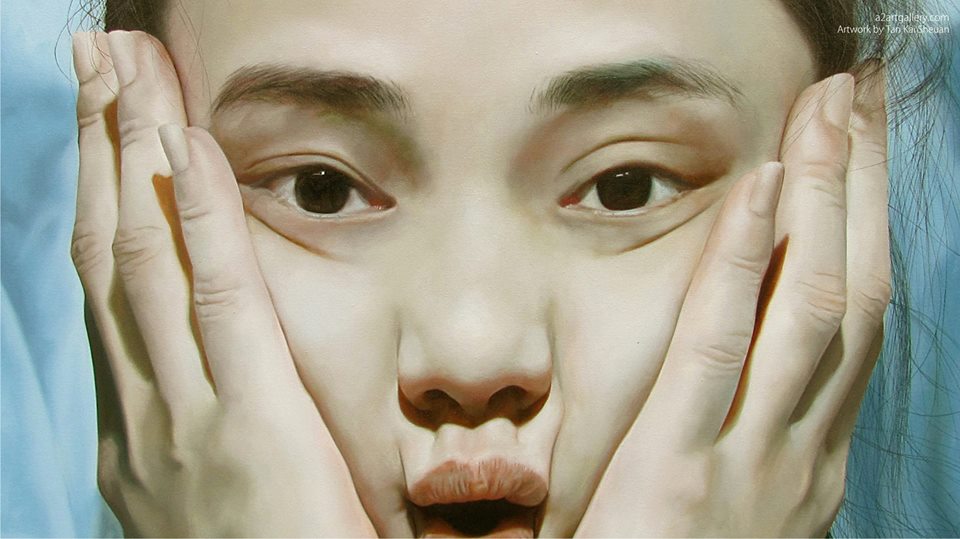 Time Out Penang Weekly Picks
The Exclusive: Group Exhibition by Selected Artists featuring recent work by Tan Kai Sheuan, Kahmei and Alfred Yeoh is on until Oct 30 at a2 Art Gallery. Also, Asian Superstars Concert 2013 rocks SPICE onOct 26 with Korean pop groups T-Ara and Boyfriend, among many others and tickets are on sale now. Meet the Tropfest SEA team on Oct 26 for winning pointers on how to get your piece chosen for the festival and free screenings of past year's films. Finally, entertain the kids with The Gruffalo on Oct 29 to Nov 1 at penangpac. Click on the links below for more details on these events.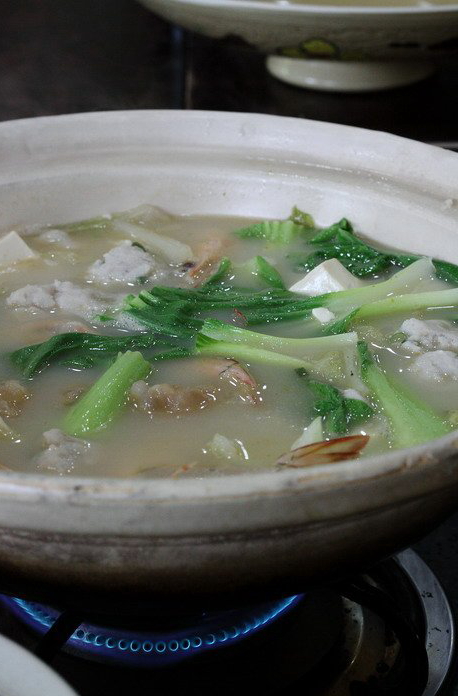 Sawara Steamboat
BY CK LAM
Diners who appreciate homemade Yong Tau Fu made from mackerel fish paste will find the menu at Sawara Restaurant inviting. The restaurant which specializes in steamboat has two outlets, one located in a corner shop house along Burma Road in Pulau Tikus area and another branch at Krystal Point in Bayan Lepas.
The menu offers specialty homemade fish balls, fish roll with celery, stuffed beancurd sheet and fish scoop. Other standards steamboat ingredients include beancurd, mushroom, vegetables, quail eggs, chicken, jelly fish, cuttlefish and thick chunks of fresh fish.