Chinese New Year Cultural and Heritage Celebration
Date: 2 February 2014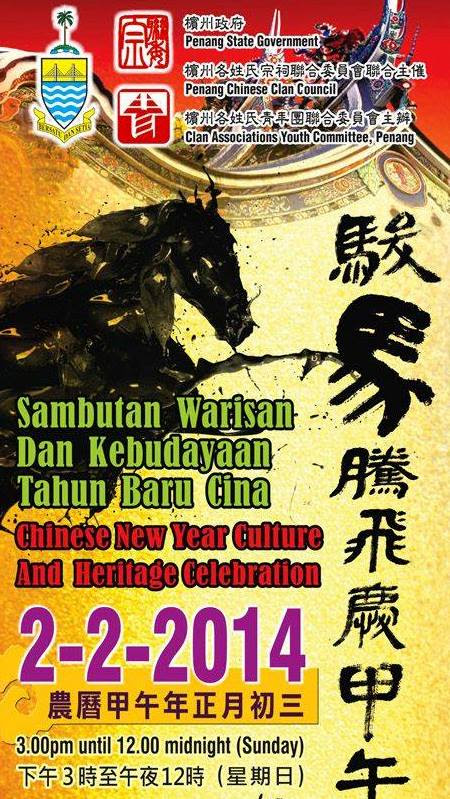 Time: 3pm – 12am
Venue: Beach Street, Bishop Street, Penang Street, Church Street and King Street
Usher in the year of the Horse with Chinese cultural activities and performances around the heritage areas of George Town. This celebration is organized in conjunction with the Lunar New Year by the Clan-Association Youth Committee of Penang and aims to promote the Chinese community's intangible heritage and long history in Penang.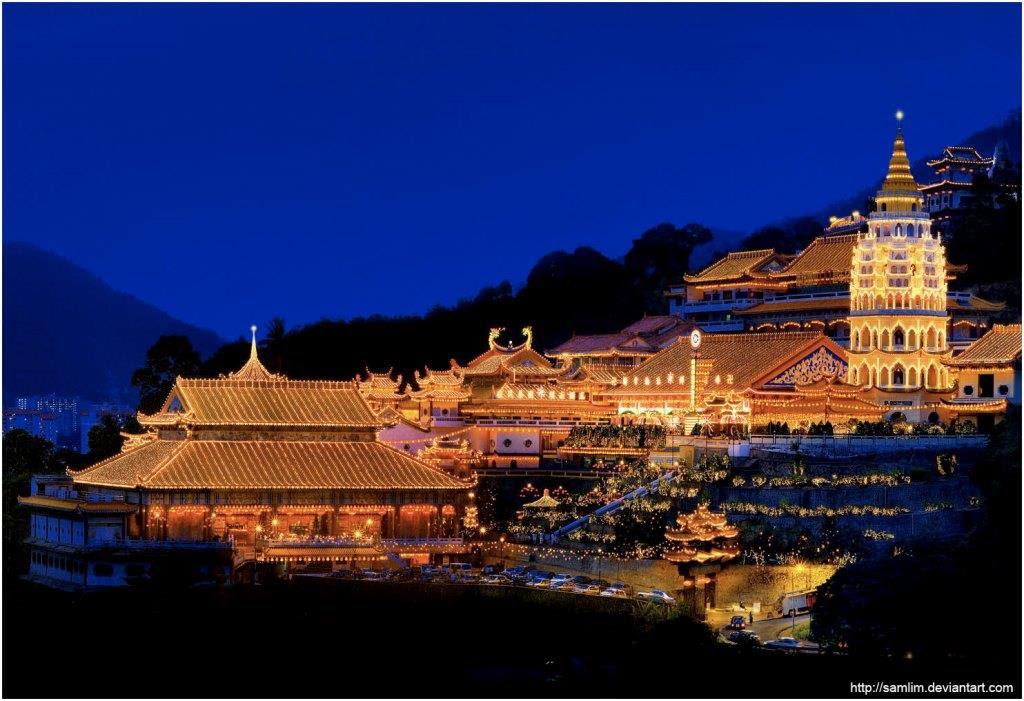 Kek Lok Si Temple Display of Lights
Date: 26 January – 27 February
Time: 7pm – 12am 
Tens of thousands of lights and lanterns on Penang's popular 123-year-old landmark will once again be on full display this Chinese New Year season. The 'Temple of Supreme Bliss' or better known as the Kek Lok Si Temple will commence with its temple-lighting ceremony four nights before the first day of Chinese New Year, and will continue to be lighted up every night for a month.
Ban Ka Lan Snake Temple Fire Watching Festival 2014
Date: 4th February 2014
Time: 7pm-12pm
Venue: . Snake Temple Penang
Hokkien Kongsi Penang and the Snake Temple Resident Area Committee will be organizing A Fire Watching Festival on the 4th of February 2014 from 7pm -12pm.
The "Fire Watching" ceremony is a traditional ceremony to predict the economy outlook of Penang. Aside from the Fire Watching ceremony, devotees and visitors will also be entertained by various cultural dances, food stalls and also an acrobatic performance from Shanghai China.
Eastin Hotel Penang scooped 3 Awards at the HAPA
In the just concluded Hospitality Asia Platinum Awards (HAPA) Malaysia 2013 – 2015 series on 9 Jan 2014, which is a prestigious event organized by the World Asia Publishing, Eastin Hotel Penang added another feather to its cap when it won the following awards: 
HAPA 4-Star Hotel/Resort – Exceptional Experience
HAPA General Manager of the Year – Ambassador of Hospitality
HAPA Concierge Excellence
Time Out Penang Weekly Picks: Jan 23 – Jan 29
The world's largest short film festival Tropfest SEA will have its inaugural opening at Esplanade on Jan 25 at 5.30pm and it's free entrance for all, preferably with prior registration.
The 12 finalists' films will be shown then too. Do check out Roughcut on Jan 24 at the Eastern & Oriental Hotel and the Southeast Asian Film Showcase on Jan 20-23 at MPPP Town Hall. For live music, catch American singer Dia Frampton's performance at Hard Rock Hotel on Jan 25 at 5pm and tickets are RM70 per person..