Chicago is one of the most romantic places to celebrate Valentine's Day, and with so many incredible things to do throughout the month, there is no bad time to visit the Windy City this February.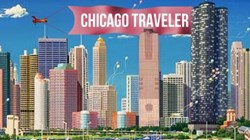 Enjoy the best things to do this February 2014 in Chicago with ChicagoTraveler.com's (http://www.chicagotraveler.com) list of "high to low romance" activities. Events are ordered from "high romance" to "low romance" activities that can be enjoyed by couples or the whole family.
1 – Dinner Cruise on the Odyssey – High Romance
The Valentine's Day dinner cruise on the Odyssey is sure to make the day special. From classy dining to incredible views of the Chicago skyline, this Valentine's Day dinner cruise (3 – course dinner) is the way to go for high romance this Valentine's Day 2014. Cruise cost starts at $100 per person and is going on on Feb 14th and 15th at 6pm.
2 – Chicago Theatre Week – High Romance
Enjoy Chicago's incredible theatre scene on a dime this February at Chicago Theatre Week. From Phantom of the Opera to Chicago's Golden Soul, Chicago Theatre Week boasts incredible shows for a good price. Shows are $15 – $30, and going on from February 11 – 16.
3 – Chicago Restaurant Week – Medium Romance
The first week of February is bringing Chicago's restaurant week, a perfect opportunity to turn up the romance before Valentine's Day. Don't miss out on $33 lunches and/or $44 dinners. Bring a sweetie to the most delicious eats in Chitown and save money! Hurry though, restaurant week ends February 6th. Many Chicago restaurants are participating in the event, so take a bite.
4 – Elmhurst College Jazz Festival – Medium Romance
Rather than waiting for the big Jazz Festival over Labor Day weekend, get your fill of Jazz this February at the 47th annual Elmhurst College Jazz Festival. Festival is taking place on February 20 – 23 and features some of the best college jazz bands in the country. Tickets are on sale now and cost $10 – $30 per event, or a weekend pass for $75. Cost goes up $2 when buying at the door.
5 – Chinese New Year – Low Romance (kid friendly!)
Celebrate the year of the horse this February at Chicago's Chinese New Year. This festival takes place in Chinatown, and the parade starts at 1pm on February 2. The day includes marching bands, a traditional dragon, lion dances and decorative floats, so don't miss the fun!
6 – Naperville Ale Festival – Low Romance
Sip on the country's tastiest craft brews this February 22 (12 – 4pm) and enjoy the day making new friends. The day will include delicious food booths, such as Chicago Bridgeport Pasty, Cupcakes for Courage, OMango, Toasty Cheese, and other treats. Live music will keep everyone dancing, and 120 beer choices will make that dance interesting. Tickets cost $45 and include 15 drink tickets.
7 – Snow Days at Navy Pier – Low Romance (kid friendly!)
On vacation with the kids? Bring them to Navy Pier's famous Snow Days on February 8 – 9. The day includes snow sculpting, snow painting, interactive activities for kids, penguins up – close (from the Shedd Aquarium), and much more winter magic!
8 – Bonus event – Bromance
Hit a Bulls or a Blackhawks game. The Bulls boast a powerful lineup and are in the thick of an exciting playoff race. The Blackhawks offer non stop action, cold beers and are the ultimate in a February bromance night out. Tickets and seating charts for all Chicago sporting events are available on ChicagoTraveler.com.
View the ChicagoTraveler.com complete list of events for more things to in in February.