A helicopter owned by Papillon Airways, a sightseeing company that specialises in aerial tours of the Grand Canyon, was carrying six British tourists at the weekend when it dropped into the canyon, crashed and burst into flame.
The crash killed three of the Britons aboard, while the other three and the pilot survived and were in intensive care in a Nevada hospital yesterday.
The helicopter came down on Saturday evening in Quartermaster Canyon, a remote side valley on the Grand Canyon's west rim.
Photos from the scene showed charred wreckage, flickering orange flames and billowing black smoke.
A witness, Lionel Douglass, told America's ABC News network that he was attending a wedding nearby when he saw a helicopter that "fell down between the mountains", triggering "the biggest explosion you ever heard and then flames like you never seen before."
Another witness, Teddy Fujimoto, was in the area taking photographs when he heard an explosion and saw two women running from the flames of the crashed helicopter.
The Washington Post quoted a Federal Aviation Administration spokesman saying the Eurocopter EC130 crashed "under unknown circumstances" and suffered substantial damage.
Helicopter numbers have increased steadily over the years at the canyon, in line with tourism, but while their noise is sometimes criticised for disturbing what should be "a spiritual place", they are generally very safe.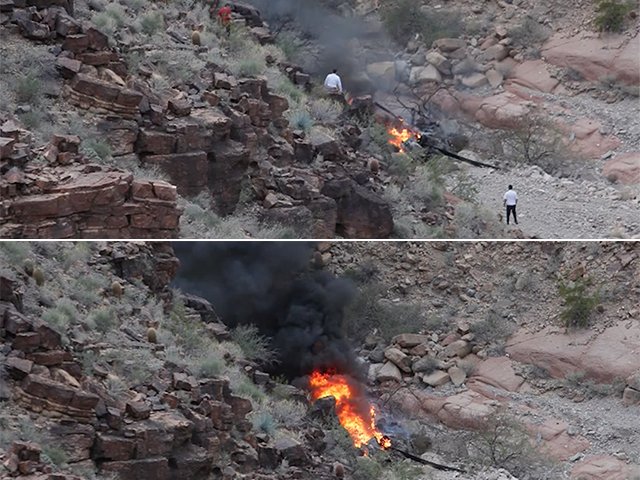 Written by Peter Needham